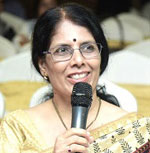 ANAESTHETIST
Co-Founder
Head of Operations, Bhaskar Eyecare
Dr. Aruna is co-founder of Bhaskar Eye Care. It was her vision that has made the Centre grow from a 200 sq. ft. OPD to its present form covering 10000 sq. ft. An anaesthesiologist with 30 years of experience, Dr Aruna has capably handled the growing HR responsibilities of the Centre besides attending to the anaesthesia requirements of the surgical patients.
Her wide exposure to work culture in various hospitals where she visited as a consultant anaesthesiologist helped her to assemble a highly motivated and trained team who are proud of this organization and extremely dedicated to make sure all patients go back happy. Her keen aesthetic sense has also come in handy when designing the layout and colour schemes of Bhaskar Eye Care at every stage of its growth.
QUALIFICATIONS
MBBS from L T M Medical College, Mumbai in 1983
Diploma in Anaesthesiology in 1985
M.D. ( Anaesthesiology) (Mumbai ) in 1987
Registered with Maharashtra Medical Council ; Reg. No. 51460
WORK EXPERIENCE
Three years residency in Anaesthesiology Department at LTMG Hospital Sion from 1984 to 1987
In Private Practice as Consulting Anaesthesiologist in Thane & Mulund since 1987 . Experienced in anaesthetizing various cases in General Surgery, Orthopedics ,Urosurgery, Gynaecology & Obstetrics
Honorary Anaesthesiologist At Kaushalya Medical Foundation Trust Hospital, Thane
More than 30 years of administrative experience of running a busy Eye Care Centre at Thane
Ex Honorary Anaesthesiologist at Pragati Mitra Mandal Trust Hospital , Mulund and S.S. Singhania Hospital , Thane
SOCIAL ACTIVITIES
Participates actively in multiple Surgical Camps at Upleta and Bacchao in Gujarat every year
Conducted multiple Cardio-Pulmonary Resuscitation workshops for general audiences in Housing Complexes , Schools and Hospitals
TEACHING ACTIVITIES
Actively involved in training anaesthesiology residents at Kaushalya Medical Foundation Hospital
Great doctor. Very patient and sympathetic. Will visit again in future for further check-ups. Staff is also very helpful.
Shankhan Roy
Patient
Happy with: Doctor friendliness, Explanation of the health issue, Treatment satisfaction, Value for money.
Jaikrishnan Nambiar
Patient