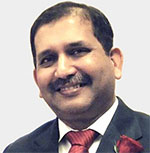 CATARACT, REFRACTIVE & LASIK
Having obtained his masters degree in ophthalmology from LTM Medical College, Sion, Dr. Dilip stepped into private practice way back in 1987.
He was appointed Head of Ophthalmology department at Singhania hospital, Thane and also served the poor as Hon Surgeon at S.S.L. Charitable Hospital, Kalyan for 22 long years.
In addition to being an experienced and expert cataract surgeon, he has also mastered the technique of Lasik procedures.
He is constantly upgrading his skills by attending international conferences at Vienna, Amsterdam, London, New Orleans etc and is a member of European Society of Cataract & Refractive surgeons which helps him to bring the best international insights to the problems of his patients. Further, he is also interested in Glaucoma management and is a life member of Glaucoma Society of India. He is also invited for talks in different conferences across India.
QUALIFICATIONS
MBBS from L T M Medical College, Mumbai in 1983
DOMS (Ophthalmology)( CPS ) in 1984
M.S. ( Ophthalmology ) (Mumbai ) in 1987
Registered with Maharashtra Medical Council ; Reg. No. 51604
WORK EXPERIENCE
Three years residency at Ophthalmology Department , LTMG Hospital ,Sion from 1984 to 1987
In Private Practice in own Eye Clinic ( Bhaskar Eyecare) since 1987 . Have OPD equipped with Humphrey Perimeter, Lenstar , Pentacam , IOL Master 500, Topcon OCT , Topcon Fundus Camera , Topcon NCT Tomey A Scan Biometer, Tomey Pachymeter and Pattern Green Laser.
Have Own Operation Theatre with Laminar Air Flow equipped with Zeiss Microscope and Infinity Phacoemulsification System and Horizontal B Class Autoclave
Co- Owner of Isight Laser Centre an independant Lasik Centre equipped with Alcon Wavelight Excimer Laser, Moria SBK MicroKeratome, Sirius Schiempflug Tomographer and Topolyser
Honorary Eye Surgeon at S.S. L Charitable Eye & General Hospital , Kalyan from 1987 to 2007
Honorary and Head of Ophthalmology Department at S.S.Singhania Hospital Thane from 1990 to 2000
Performed more than 7000 Small Incision Cataract Surgeries and more than 10,000 Phacoemulsification Surgeries. Proficient in implanting Multifocals And Toric IOLs , Capsule Tension Ring for zonular weakness and in using Zepto Technology in Mature Cataracts
Performed more than 2000 YAG Capsulotomies and more than 100 YAG Iridotomies
Performed more than 3000 Lasik Procedures with Moria SBK MicroKeratome and MEL 80 (Zeiss) and Wavelight 500 (Alcon) Excimer Laser and more than 200 Femto Lasik procedures with the Ziemer Femtosecond Laser
Proficient in Medical Management of Glaucoma using Applanation Tonometry, Gonioscopy ,Humphrey Field Analyser and Stratus OCT Presently managing over 1000 Glaucoma patients on regular Follow up
Performed more than 100 Trabeculectomies for uncontrolled Glaucoma
Performed more than 50 Cross linking procedures for Keratoconus with IROC instrument
Performed more than 30 Phakic IOLs ( ICL & IPCL)
SOCIAL ACTIVITIES
Participated actively in more than 50 Cataract Surgery Eye Camps in villages around Kalyan as part of S.S.L. Eye hospital, Kalyan and performed more than 2000 free Cataract Surgeries.
Conducted Cataract and Glaucoma Awareness lectures for general audiences
TEACHING ACTIVITIES
Two Years teaching experience of teaching under graduates and Post Graduates as Registrar in Ophthalmology at L.T.M.Medical College ,Sion, Mumbai
Trained more than 15 eye surgeons in Lasik at Isight Laser Centre
Conducted Instruction Course on Zepto Technology at Maharashtra Ophthalmic Society Meet at Aurangabad in 2018
Gave a presentation on " Understanding IOL formulae" and "Phaco Chop Principles " at Bombay Ophthalmic Association
Gave a Presentation on " Understanding Higher Order Aberrations " at Karnatak Ophthalmic Association
Gave a presentation on " Operation Theatre Protocols" and "Topography for Refractive Surgeons" at Thane Ophthalmic Association
MEMBERSHIP OF PROFESSIONAL BODIES
Member of :
Thane Ophthalmologists' Assocition
Bombay Ophthalmologists' Association
Maharashtra Ophthalmologists Society
All India Ophthalmologists Society
Glaucoma Society of India
European Society of Cataract and Refractive Surgeons
HOBBIES
Studied Indian Classical Music for more than 40 years and proficient in playing the musical instrument "Harmonium " Has given many Harmonium Solo performances all over Maharashtra
Very nice and informative consultation. Very honest opinions were given to all my queries related to my requirements.
Abhijit M Patil
Patient
He is Master. very polite having reach experience in the problem related Eyes. co staff also excellent and polite.
Rakesh
Patient
I will give 10/10. The way he explain and examine my two year kid for enjury in his right eye. Thanks to Dilip sir.
Rohit Maurya
Patient