Dr. Mithila Gaitonde - Negalur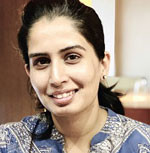 PEDIATRIC OPHTHALMOLOGY, SQUINT & NEURO-OPHTHALMOLOGY
Dr. Mithila Gaitonde - Negalur, completed her post graduation in Ophthalmology (DNB) from Ganapati Netralaya, Jalna.
She then pursued her long term fellowship in Pediatric Ophthamology, Strabismus & Neuro-ophthalmology from the prestigious LV Prasad Eye Institute, Hyderabad. She is also a Fellow of the International Council of Ophthalmology, UK and is currently a consultant at Bhaskar Eyecare, Thane. She is also attached to various eye hospitals in Thane & Mumbai.
Her interests are in Squint management, Amblyopia and Optic Nerve disorders. She has been active in training young ophthalmologists at various residency training programmes.
She has published articles in Indian and International journals and has numerous presentations at various state and national conferences to her credit.
Registration : Maharashtra Medical Council – MMC/2011/06/2043

Fellowship : 1. Long term fellowship in Pediatric Ophthalmology, Strabismus & Neuro-ophthalmology at LV Prasad Eye Institute, Hyderabad (2015 – 2017)
2. Fellow of International Council of Ophthalmology (FICO), UK Maharashtra Medical Council – MMC/2011/06/2043
CLINICAL EXPERIENCE
6 months adjunct faculty at LVPEI, Hyderabad
Cataract Surgeries: Pediatric cataract surgery with IOL implantation (including infants below 6 months) – over 100
Squint Surgeries: Rectus muscle surgeries (Horizontal & Vertical) & Oblique muscle surgeries with fornix incision – over 150
Special procedures – Muscle transpositions, Y - Split, Faden procedure, Lid retractorlysis
Orthoptics & vision training
Cerebro Visual Impairment (CVI) clinics
Assisted in management of pediatric glaucoma & pediatric corneal surgeries
Neuro-ophthalmology: Diagnosis & management of optic nerve disorders – Inflammatory, traumatic, compressive, nutritional, toxic, hereditary optic neuropathies
Collaborations with pediatric neurologist & neuro-radiologists
Assisted in optic nerve sheath decompressions
Others: Low vision clinics
Adult & child rehabilitation for the visually impaired
Community Out-Reach Programmes
Participated in numerous eye screening camps for children organized across Andhra Pradesh by LV Prasad Eye Institute
Retinopathy of Prematurity screenings in ICU & Neonatal care units across Andhra Pradesh & Telangana