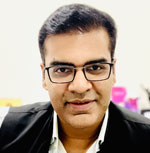 MD MS FPRS FICO(UK) FAICO
Refractive Surgery
Dr. Nikhil completed his undergraduate training with honors and was ranked 7th in Rajiv Gandhi University for Health Sciences in MS ophthalmology. After his post graduation, he went on to complete 3 fellowships: Medical Retina fellowship, Laser based Cataract & Phaco fellowship and a LASIK fellowship. He has worked as a cataract consultant at LIONS charitable Eye Hospital, Hyderabad, a Refractive surgery consultant at Challa Eye Care, Hyderabad and later was appointed as "Course Director" for Cataract surgery training at Srikiran Institute of Ophthalmology, Andhra Pradesh He is a practicing anterior segment surgeon specialising in Laser Cataract surgery, LASIK and keratoconus management. He was among the first team of surgeons to introduce Laser Based Flap surgery in India. He has co-authored 2 landmark articles in ophthalmology journals and contributed chapters in postgraduate textbooks. He is a course instructor in numerous national and international conferences and has publications in various indexed journals. He is also a reviewer in 3 international ophthalmology journals.
Medical Qualification
CLINICAL FELLOWSHIP (F.P.R.S) - 2014-2015: CATARACT AND REFRACTIVE SURGERY, NARAYANA NETHRALAYA, BANGALORE
CLINICAL FELLOWSHIP (2013): MEDICAL RETINA AND UVEA, H.V. DESAI EYE HOSPITAL, PUNE
F.A.I.C.O (REFRACTIVE SURGERY): FELLOW, ALL INDIA COLLEGIUM OF OPHTHALMOLOGY: REFRACTIVE SURGERY
(F.I.C.O- PART 1): INTERNATION COUNCIL OF OPTHALMOLOGISTS
M.S OPHTHALMOLOGY (2010-2013): J.J.M MEDICAL COLLEGE AND BAPUJI HOSPITAL, DAVANGERE. UNIVERSITY RANK: 7th PASSED WITH 68%
M.D. (PHYSICIAN) (2002-2008): I.M.SECHENOV MOSCOW MEDICAL ACADEMY, RUSSIA
ROTATIONAL INTERNSHIP (1 YEAR ):RAJIV GANDHI MEDICAL COLLEGE & CHHATRAPATI SHIVAJI MUNICIPAL HOSPITAL, KALWA, THANE.
REGISTERED WITH: MEDICAL COUNCIL OF INDIA, NEW DELHI (MCI 10/3
Undergraduate Medical training
M.D. (PHYSICIAN) With HONORS I.M.SECHENOV MOSCOW MEDICAL ACADEMY, MOSCOW, RUSSIA: 2002-2008
Rotational Clinical Internship
RAJIV GANDHI MEDICAL COLLEGE & CHHATRAPATI SHIVAJI MUNICIPAL HOSPITAL, KALWA, THANE : 2009-2010
Post Graduate Medical Training
M.S. Ophthalmology J.J.M MEDICAL COLLEGE AND BAPUJI HOSPITAL, DAVANGERE UNIVERSITY RANK: 7th : 2010-2013
Short term Clinical fellowship
FELLOWSHIP IN MEDICAL RETINA AND UVEA H.V. DESAI EYE HOSPITAL, PUNE: 2013 (2 months)
Long Term Clinical fellowship
F.P.R.S Fellowship in Refractive surgery and Phacoemulsification NARAYANA NETHRALAYA, BANGALORE: 2014-2015
Awarded Fellowships
F.A.I.C.O (REFRACTIVE SURGERY) FELLOW, ALL INDIA COLLEGIUM OF OPHTHALMOLOGY: REFRACTIVE SURGERY: 2016
F.I.C.O- PART 1: INTERNATION COUNCIL OF OPTHALMOLOGISTS: 2013