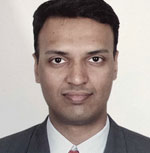 RETINA SURGEON
Dr. Sharang Wartikar is a young, compassionate eye specialist and a skilled vitreo-retinal surgeon with over a decade of experience in his field. His expertise lies in performing Retinal Lasers and Retinal Surgeries. These include Scleral buckling surgeries and Micro Incision Vitrectomy Surgeries (MIVS) for various vitreo-retinal diseases. His work on MIVS has been published in renowned international journals and he has contributed chapters on important retinal conditions like Diabetic Retinopathy in international textbooks.
Registration : Maharashtra Medical Council, Reg. No.: 2001/03/1709
Memberships : AIOS (W-11269), VRSI (W-307), BOA (2010-10L), Committee Member of TOA (L-W001)
Vitreo-Retinal Consultant (in past) : 1. Bombay City Eye Institute & Research Centre, Mumbai.
2. K. B. Haji Bachooali Charitable Hospital, Parel.
Vitreo-Retinal Consultant (present) : 1. Jupiter Hospital, Thane
2. Devkunj Eye Hospital, Mulund
Bhaskar Eye Clinic : 1. Fully equipped Retina Centre in Thane
Visiting vitreo-retinal consultant at various setups in Mumbai & Thane
Experience in Retina & Vitreous:
Diagnostics: Fundus photography, Fluorescein and ICG Angiography and OCT [Certified by University of Wisconsin Reading Centre, US and Vienna Reading Centre, Austria], Ultrasonography [B-scan and Ultra-Bio-Microscopy].
Lasers: Slit-lamp and Binocular indirect delivery systems.
Surgeries: Scleral buckling procedures and pars plana vitrectomies including small gauge surgeries, for various vitreo-retinal diseases.
Research Experience:
Study Coordinator for VIEW-2 (VEGF Trap-Eye: Investigation of Efficacy and Safety in Wet AMD) sponsored by Bayer Schering Pharma, Berlin.
Study Coordinator for EOP1013 (Role of Macugen in Diabetic Macular Edema) sponsored by OSI-Eyetech, New York and Pfizer Inc., New London.
Research Assistant at Tata Institute of Social Sciences (TISS), Mumbai for -
"Developing Clinical Indicators" for Maharashtra Health System Development Project (MHSDP) funded by the World Bank.
"Evaluation of NGOs", a World Bank assisted Cataract-Blindness Control Project for Ministry of Health and Family Welfare, Government of India.